1350 Lincoln Hwy, North Versailles | 2045 Darlington Rd, Beaver Falls | 610 Market Street, McKeesport
Ceramic Photos
These modern and tasteful pieces of art can help immortalize your loved ones life. People say a picture is worth a thousand words. What better way to pay tribute to a loved one than by placing their picture in this special product. The image that you choose will help bring peace of mind and tranquility of your loved one. A lot of people believe that this personalized product is just limited to monuments. This is not true at all. We offer this personalized product for urns as well. At Design Monuments Company, we allow you to choose the design that would best describe your loved one. Since everyone's life is special, we encourage you to select the one that represents the persons life the best. Many people also feel the desire to share these photos with different members of your family. This ensures that everyone has the ability to remember the person that was dearest to them.
Along with ceramic photos for monuments and urns, we also offer personalized ceramic photos for pets.
We offer a full range of shapes to choose from including, rectangular, oval, and heart shape to name a few. They come in various sizes and metals ranging all across the board. Our prices for ceramic photos are extremely reasonable and we guaranty the highest quality. Please contact us or stop in any of our showrooms if you have any additional questions.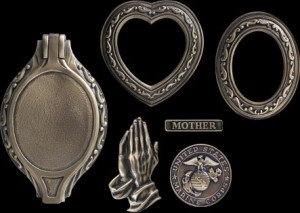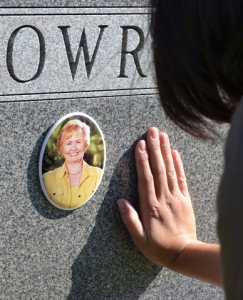 Cemetery Vases
We offer a variety of cemetery vases made of the most durable materials, that are meant to withstand any kind of weather. Cemetery vases are used to hold flowers for both upright and flush grave markers. There are many different kinds of cemetery vases that come in a variety of different colors, shapes and sizes. Some of the most popular ones are listed below:
Granite– These are most commonly used as an accessory to upright memorials. They are made from solid granite that can be shaped in a variety of ways. Some of the most common shapes are turned granite, which looks like a cylinder, and tapered square granite, which look like a square. They are installed using an epoxy that adheres to the granite base of the memorial.
Bronze– These are used for bronze flush markers and are available in many different finishes of bronze. They can be an addition that adds character to your bronze marker. They have a base that locks in place in a hole that is unique to bronze markers.
Aluminum & Zinc– These can be added to almost any cemetery memorial and come in many different shapes and finishes. They can be placed on a headstone or can be placed in the ground. They are installed using high strength epoxy for flat surfaces or a metal sleeve when placed in the ground.